Description
Unleash the power of cutting-edge technology with the Nimbus, a dual nozzle atmospheric plasma treatment system. Designed to perfection, the Nimbus is your ideal solution for surface activation, cleaning, and modification across a wide spectrum of materials, including polymers, metals, glass, and ceramics.
Features:
Ease of Operation: The Nimbus boasts an intuitive front panel soft-keypad, making it exceptionally user-friendly. Additionally, it's seamlessly compatible with external control equipment, thanks to the rear panel Sub-D connector. This provides a wide range of I/O control inputs and status read-back, facilitating integration into automated production lines or robotic systems.
Plug-and-Play Convenience: The Nimbus can be powered using a standard single-phase electrical outlet and requires only compressed air to operate. Say goodbye to the hassle of complicated setups.
Built-in Airflow Regulation: The compact controller features an interlocked airflow regulation unit as standard, eliminating the need for extra equipment. Your plasma treatments are now more straightforward than ever.
Atmospheric Plasma Advantages:
The Nimbus Atmospheric Plasma System – Elevating Your Material Treatments to the Next Level!
Versatile Application: The Nimbus tackles a wide array of specific treatments and material enhancements, including plasma cleaning, surface activation for improved adhesion, treatment of engineering polymers like PEEK, PCBs, metals, ceramics, and glass.
Compact and Adaptable: Whether you require a benchtop setup or rack-mounted configuration, the Nimbus delivers. It's adaptable to your workspace.
User-Friendly Interface: Our soft-key interface simplifies operation. You'll be up and running in no time, achieving precise and repeatable results.
Seamless Integration: The I/O subsystem enables effortless integration into your production line. Monitor and control the system's gas parameters with ease.
Gas Monitoring & Control: The Nimbus comes equipped with integrated gas monitoring and control features, ensuring the utmost precision in your treatments.
High-Quality Results: Expect nothing less than the highest quality treatments. The Nimbus excels in delivering localized treatments, addressing your specific needs with precision.
Cost-Efficient Operation: Say hello to very low operation costs. The Nimbus seamlessly integrates with automated lines, boosting your productivity.
Benefits:
Versatility: The Nimbus opens doors to a broad range of applications, making it a valuable asset for your business.
Repeatable and Reliable: Count on the Nimbus to consistently produce outstanding results. Its continuous monitoring and control of plasma parameters and gas delivery guarantee unwavering performance. Safety interlocks ensure trouble-free, long-term operation.
Specifications: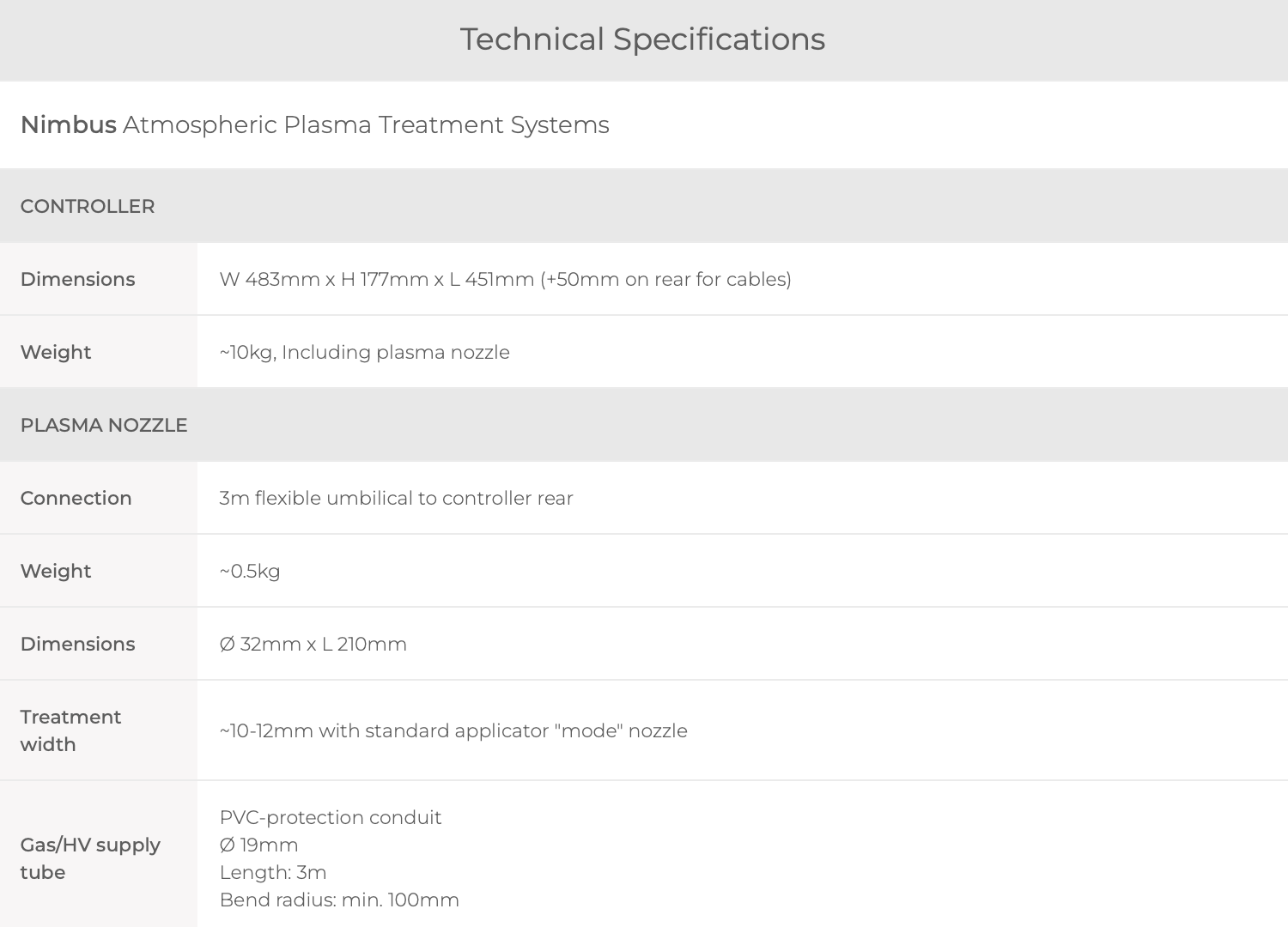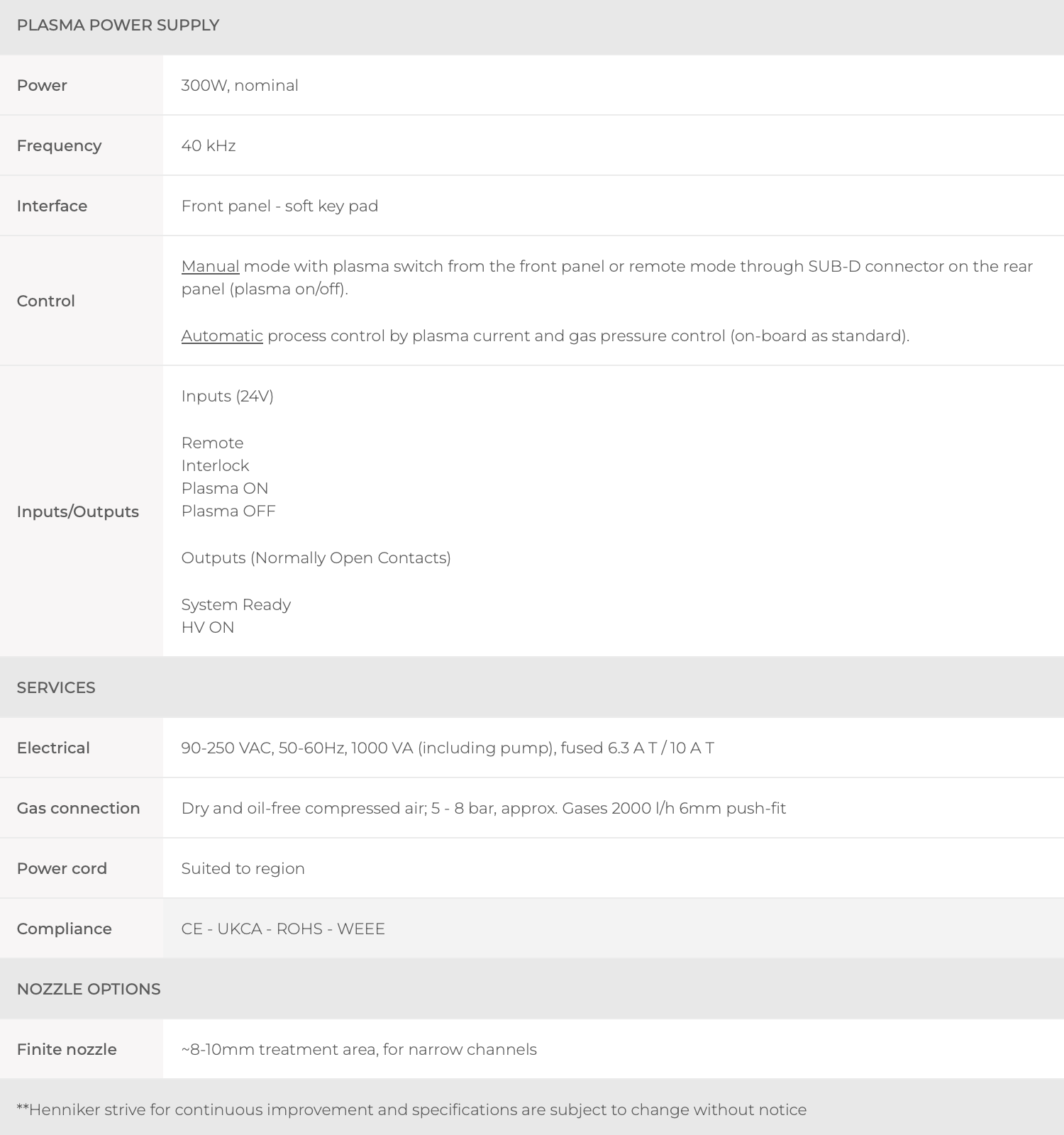 The Nimbus Atmospheric Plasma Treatment System – Elevate your materials, streamline your processes, and redefine your success. Welcome to the future of surface treatment!
Click Here to view more similar products.