Description
Cirrus is a versatile solution for plasma coatings, plasma etching, surface activation, and more. This single-nozzle wonder is designed to transform the way you work with materials, from polymers and metals to glass and ceramics. Explore its key features and benefits below.
Features:
Wide Material Compatibility: The Cirrus is your go-to system for treating a diverse range of materials, including polymers, metals, glass, and ceramics.
User-Friendly Interface: Operating the Cirrus is a breeze with its front panel soft keypad. You can also interface it with external control equipment for seamless integration with your production lines or robot cells, thanks to the rear panel Sub-D connector.
Plug-and-Play Setup: Say goodbye to complex installations. The Cirrus operates from a standard single-phase electrical outlet and only requires compressed air for operation.
Integrated Airflow Regulation: The compact controller features an interlocked airflow regulation unit as standard, eliminating the need for additional equipment.
Atmospheric Plasma Advantages: Unlock a world of possibilities with atmospheric plasma treatments, including cleaning, surface activation, and treatment of various materials.
Compact Design: The Cirrus is available in a compact benchtop or rack-mount unit, perfect for saving space in your workspace.
I/O Subsystem: Seamlessly integrate this system into your production line with its I/O subsystem for line integration.
Gas Monitoring and Control: Enjoy precise and repeatable results with integrated gas monitoring and control.
Material Flexibility: The Cirrus is capable of treating polymers, glass, ceramics, metals, and more.
Fast and Localized Pre-Treatment: Speed up your processes with fast, localized atmospheric plasma pre-treatment of parts before bonding.
Ultra-Fine Cleaning: Achieve ultra-fine atmospheric plasma cleaning for pristine surfaces.
Superior Adhesion: Surface activation with atmospheric plasma enhances adhesion, ensuring your materials bond effectively.
High-Quality Treatments: Expect nothing less than the highest quality treatments for your materials.
Cost-Efficient Operation: Not only does the Cirrus provide exceptional results, but it also comes with very low operating costs. Plus, it seamlessly integrates with automated lines for added efficiency.
Benefits:
Versatility: The Cirrus is your all-in-one solution for plasma coatings, etching, and surface activation, making it a versatile addition to your workflow.
Repeatability and Reliability: Count on the Cirrus for consistent results. Its continuous monitoring and control of plasma parameters and gas delivery ensure reliability even in the face of changing conditions.
Cost-Efficiency: With low operating costs and easy integration into automated lines, the Cirrus is a cost-efficient choice for businesses of all sizes.
Specifications: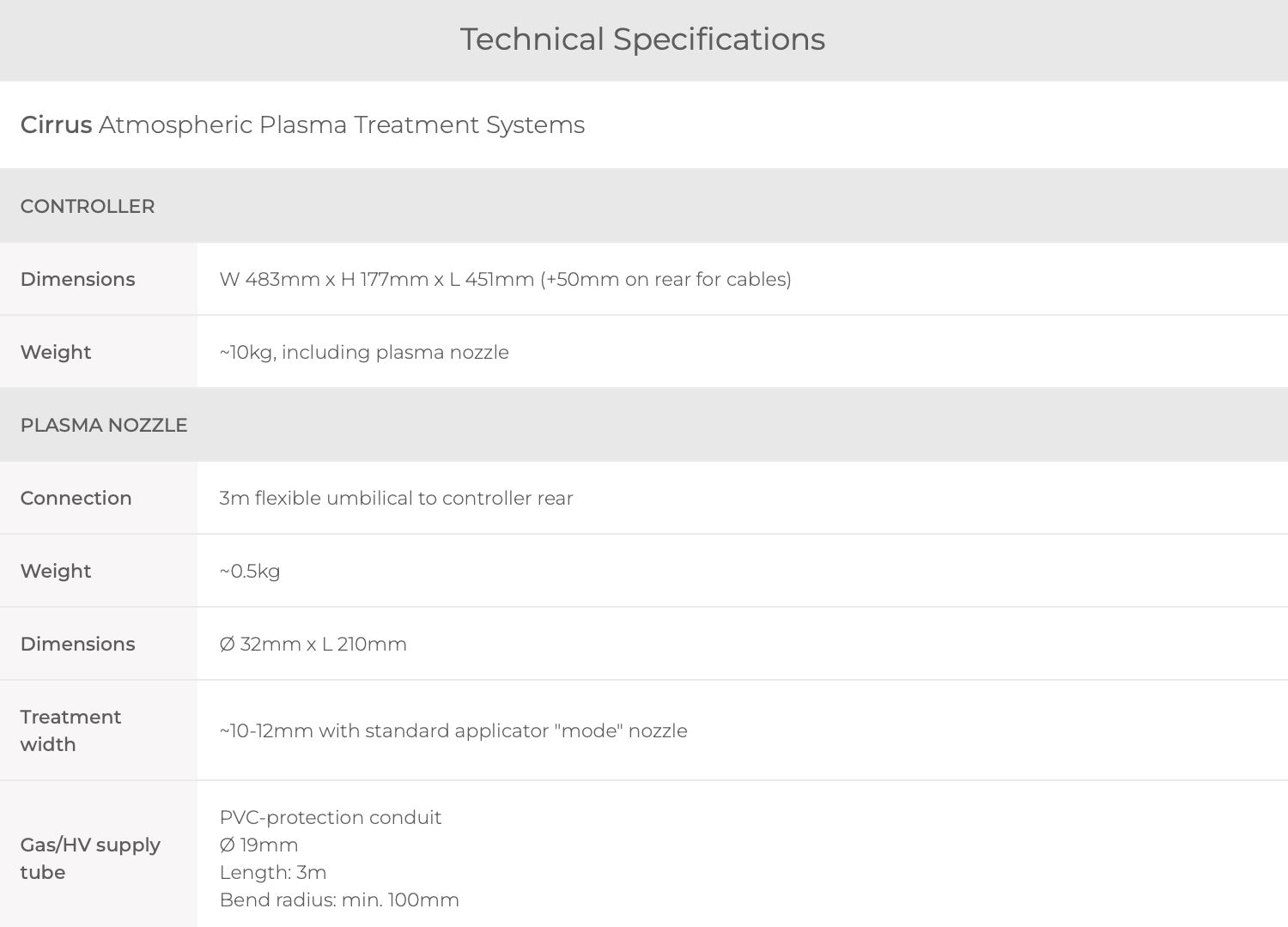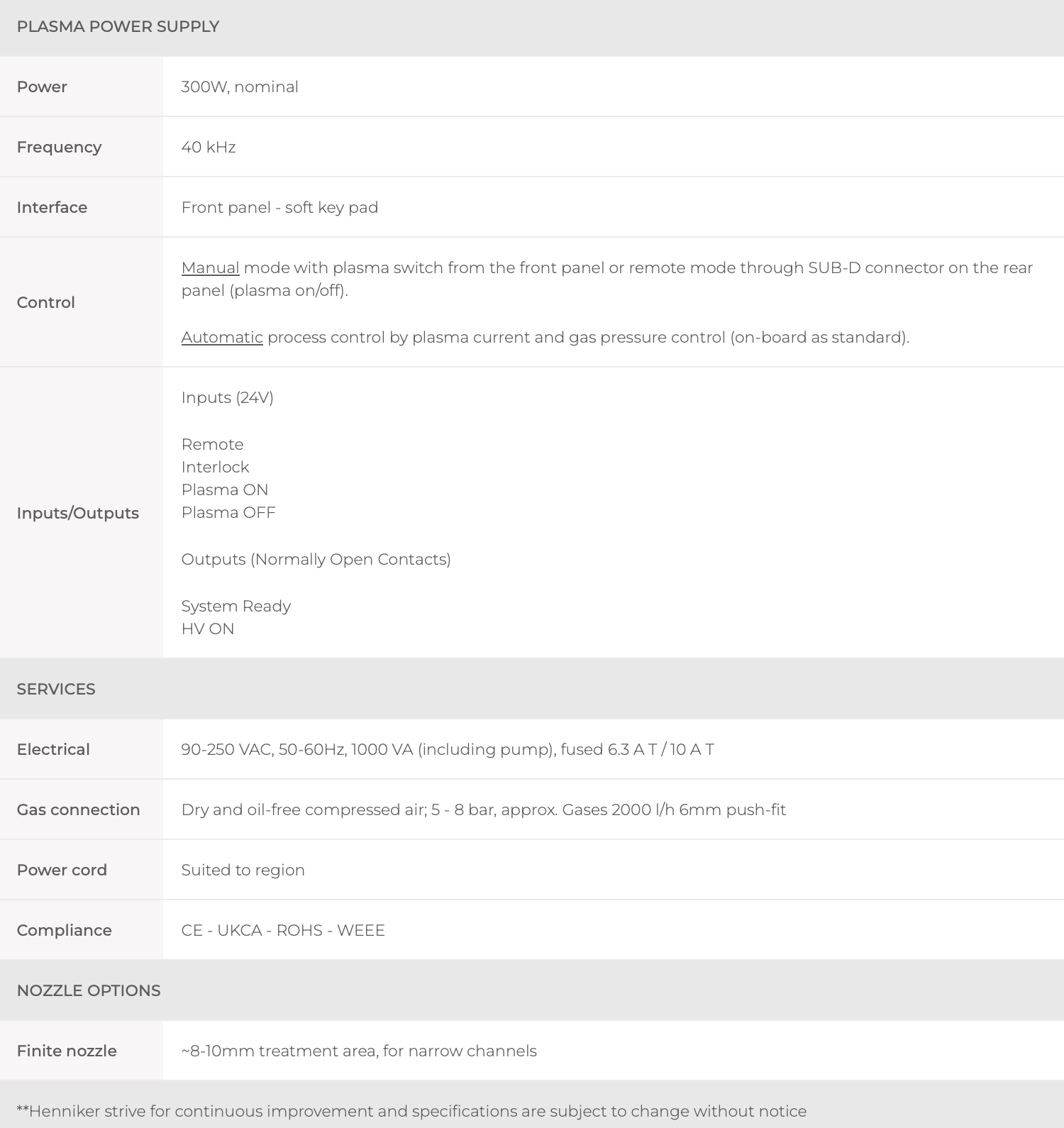 Click Here to view more similar products.