Description
Unlock the potential of advanced plasma technologies with NEBULA plasma surface treatment systems. Our cutting-edge systems are meticulously designed to meet the demands of industrial processing while offering the flexibility required for pioneering research and development in plasma coatings, plasma etching, and surface activation. With PLC control and a range of innovative features, NEBULA is your gateway to precision and reliability.
Features of Nebula Plasma Treatment Systems:
Chamber Volumes: NEBULA systems come in a variety of chamber sizes, ranging from 30L to 150L, providing you with options tailored to your specific needs.
Tray Configurations: Choose from horizontal, vertical, or rotary drum parts trays, allowing for diverse mounting arrangements to accommodate your workpiece.
Plasma Polymerization Inlet: Experience the versatility of plasma polymerization with the optional monomer dosing inlet, enabling the creation of permanently functionalized surfaces.
PLC Control: Our systems are equipped with state-of-the-art PLC control, ensuring precise and repeatable processes.
Automated Recipe-Driven Operations: NEBULA's user-friendly interface offers recipe-driven operations with unlimited recipes and steps per recipe, streamlining your workflow.
Compact Standalone Design: Each NEBULA system is a space-saving standalone unit, making it an efficient addition to your workspace.
Fast Treatment Times: Experience quicker turnaround times, increasing productivity without sacrificing quality.
Environmentally Friendly: NEBULA systems produce no hazardous emissions, contributing to a cleaner and safer working environment.
Liquid Dosing Inlet: Extend the capabilities of your plasma treatment with the automated liquid dosing inlet, allowing a wide range of liquid monomers for enhanced surface functionality.
Benefits of Nebula Plasma Treatment Systems:
Versatility: Suitable for a wide range of applications, including cleaning, adhesion improvement, surface activation, improved wettability, and nano-scale functional coatings.
Material Compatibility: NEBULA systems can treat metals, polymers, composites, ceramics, and glass, providing a universal solution for your needs.
Precision: Achieve precise and repeatable results, ensuring consistency and quality in your processes.
Safety: NEBULA's eco-friendly design produces no hazardous emissions, enhancing workplace safety and sustainability.
User-Friendly Interface: The recipe-driven interface is intuitive and user-friendly, simplifying your operation.
Liquid Dosing Option: The automated liquid dosing inlet extends the range of plasma surface treatment possibilities in a single machine.
Specifications: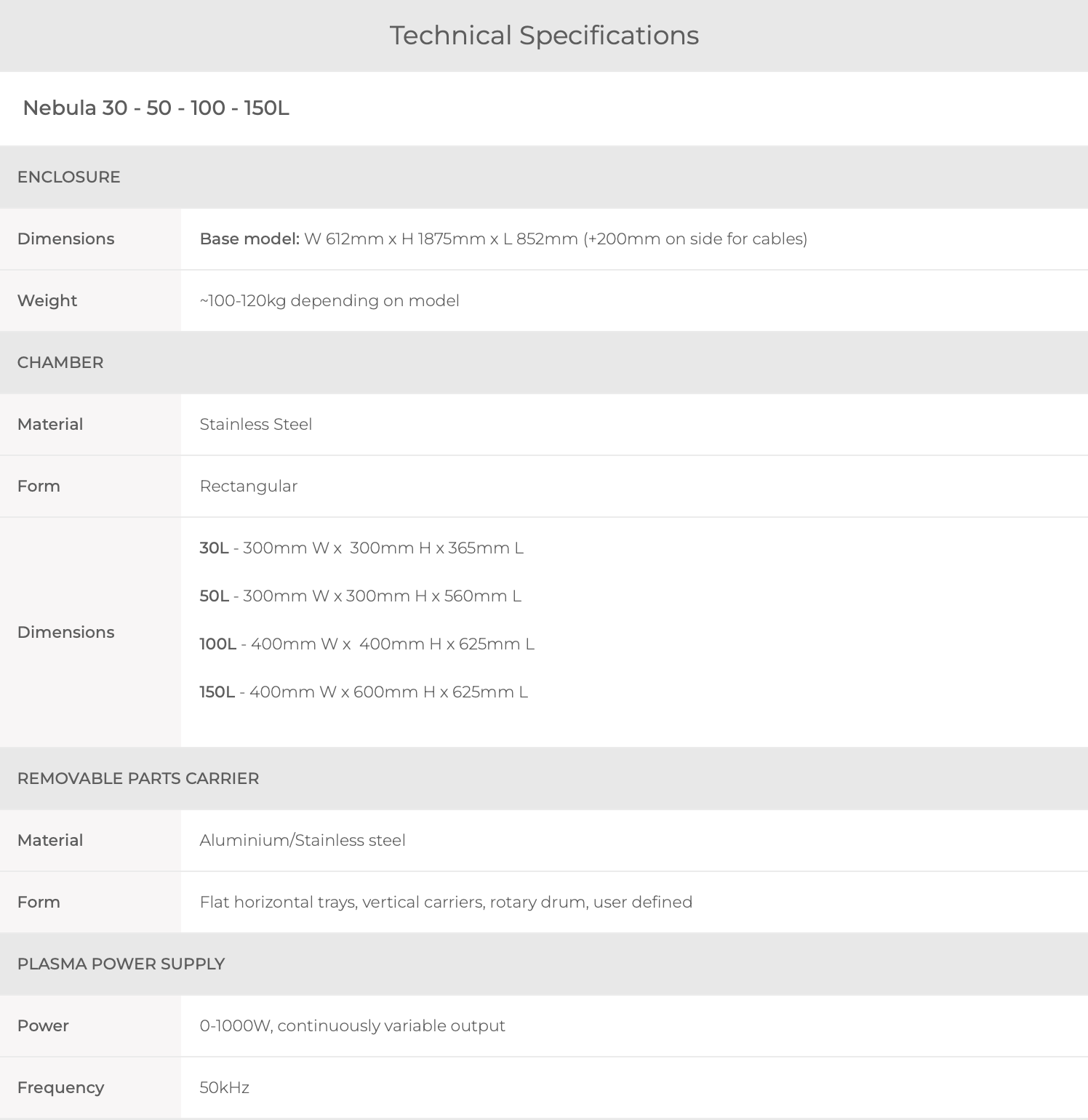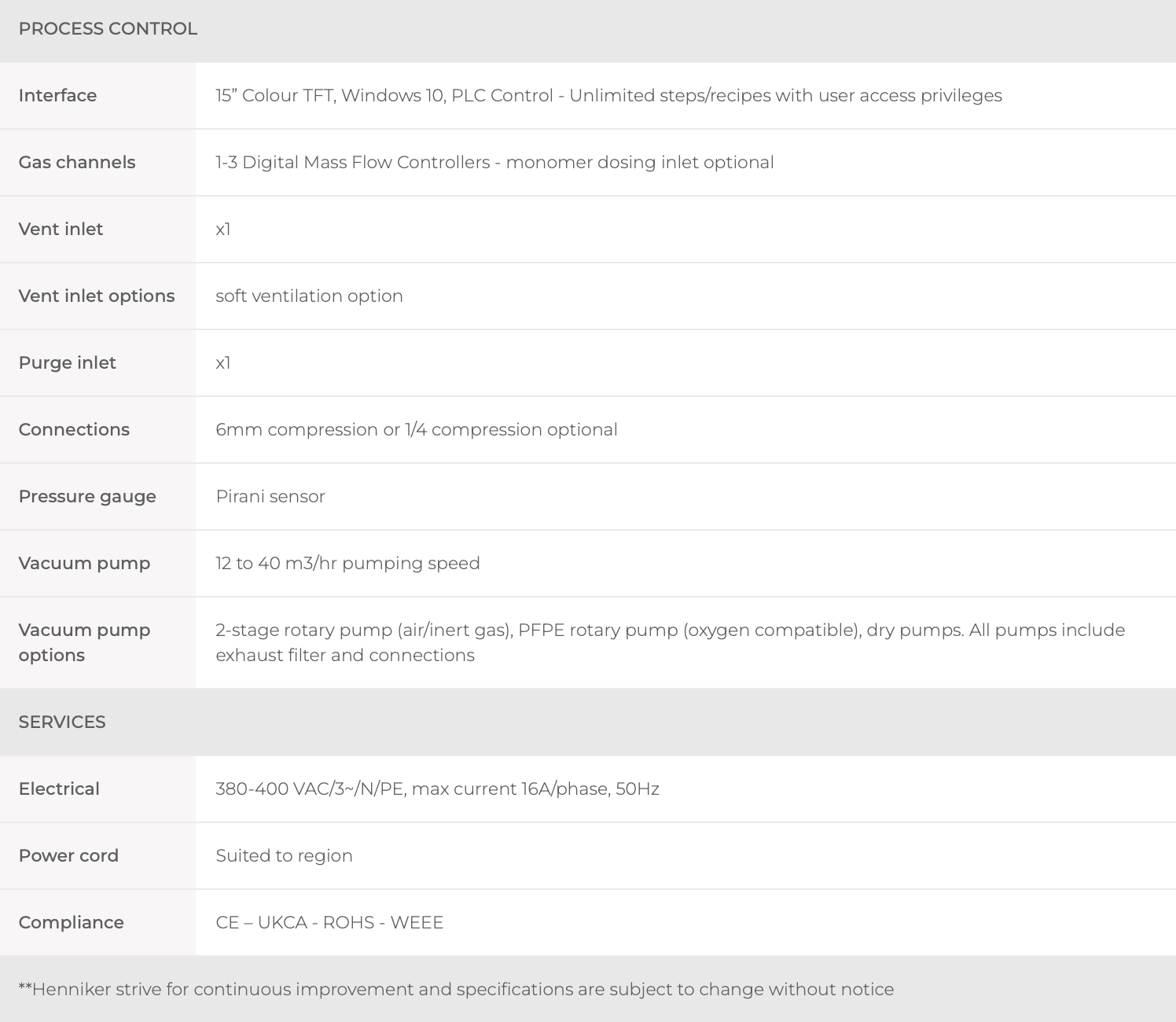 NEBULA Plasma Treatment Systems offers an all-encompassing solution for your plasma coating and surface activation needs. Whether you're in the realm of research and development or require reliable, large-scale industrial processing, NEBULA delivers the precision, flexibility, and safety you need. Experience the future of plasma treatment with NEBULA.
Enhance your capabilities and explore the boundless potential of plasma treatment systems with NEBULA.
Click Here to view more similar products.