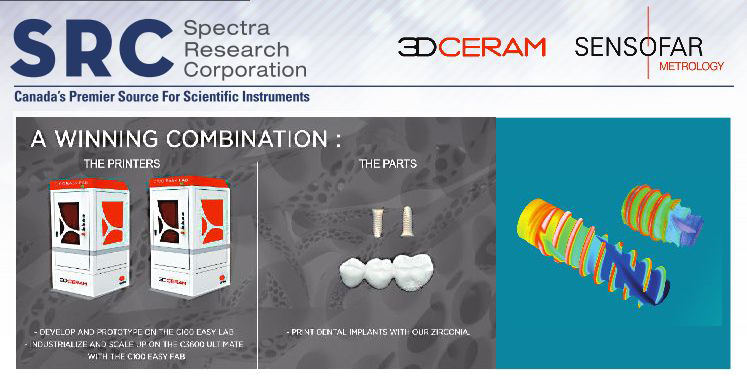 How to Harness the Advantages of 3D Printing of Ceramics for Dental Applications
3D printing of ceramics enables a design freedom that is not achievable using tradition methods in the dental industry.
We will discuss how we can achieve with our Ceramics 3D printers tight tolerances while maintaining high strength and hardness that are
comparable to tradition manufacturing technologies.
Case studies will highlight some of the success stories that we have achieved for dental applications.
Best Tips for Dental Implants Surface Characterization
Our experts will bring you all they have learned from the multiple surface measurements they have taken on samples from the dental implant field.
Key Topics:
How to evaluate the roughness of a dental implant?
Other topographic evaluations (different surface color, reflectivity, shape, coatings, texture…
What to find in a 3D topography that you cannot find in a 2D topography?
The most suitable techniques for Dental implants Research and Quality Control
Webinar: Tuesday April 27, 2021, 11:00-12:00 EST
Guest Speakers:

Peter Durcan


VP of Sales for North AmericaPeter Durcan with over 3 years in additive ceramics, a bachelor of commerce degree holder with an MBA from the Open University, United Kingdom. Peter, an Irish national who has been running the North American market with 3D Ceram for the past 2 years.
Natalia Bermejo


Product Specialist

Natalia joined Sensofar shortly after finishing her bachelor's degree in Nanoscience and Nanotechnology at Universitat Autònoma de Barcelona (UAB) in 2018. Since then, she has been
providing technical and application's support for the Sales Team, as well as training and installing systems for prospective clients and customers. In 2020, Natalia moved to Silicon Valley, providing support to high-tech companies, as well as being the bridge between Sensofar and California's distributor of the Sensofar brand. Currently, Natalia has returned to Barcelona HQ, and she's has taken on an additional role supporting the Marketing Team, participating in content generation for the Sensofar channel.