ROKIT Healthcare is a bioprinting and biotechnology company based in Seoul, South Korea, with research bases in Boston, U.S.A. and Saarland, Germany. Founded in 2012 Rokit was one of the first companies in the world to print PEEK (polyetheretherketone) and other high-performance materials.
In recent years Rokit Healthcare has gone from just selling 3D printers and materials to offering integrated solutions. With a renewed focus on regenerative healthcare, the company provides complete solutions for bioprinting. Rokit Healthcare now offers bioinks, has a tissue bank, a 3D printing service and provides training.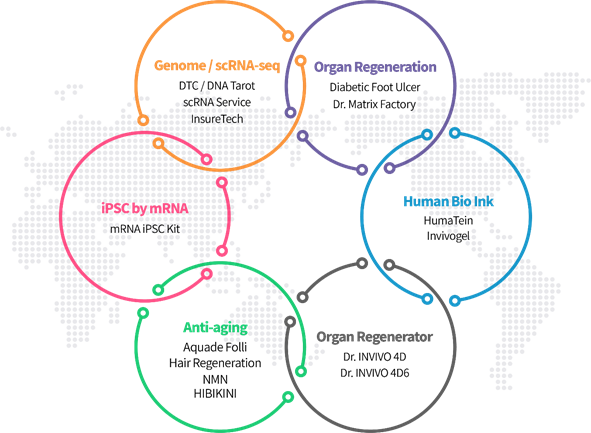 ROKIT Healthcare strives to improve the quality of life and health around the world by addressing the problem of aging and age-related diseases with total, healthcare solutions. 3D biofabrication and the development of patient-specific tissue and organ regeneration therapies are their core capabilities. This explains Rokit's Healthcare's bold slogan:
Aging is disease.
From Rokit Healthcare's perspective, bioprinting sets the base for the personalized therapy solutions they are planning to introduce to global hospitals, from patient-specific skin, cartilage and bone regeneration to heart and retina patch biofabrication solutions. Rokit believes that bioprinting must come together with other preventive medicine and diagnostic technologies, digitalization and healthcare management strategies to be truly effective at the level of patient outcomes. Rokit Healthcare thus seeks to address regenerative medicine and healthcare from a much wider vantage point, with bioprinting as an important but not dominant theme.
ROKIT Healthcare understands that there is a paradigm shift underway in healthcare economics that will usher in new therapeutic methods. They see themselves as a pioneer in this new paradigm that will feature the use of autologous cells, cell sheet technology, and emerging 4D biofabrication technology.
Rokit Healthcare products
Invivo: The Invivo 3D bioprinter improves the efficiency of tissue engineering and regenerative medicine research by allowing the creation of 3D cellular structures by printing scaffolds for hard tissues, as well as using bio-inks for the creation of soft tissue.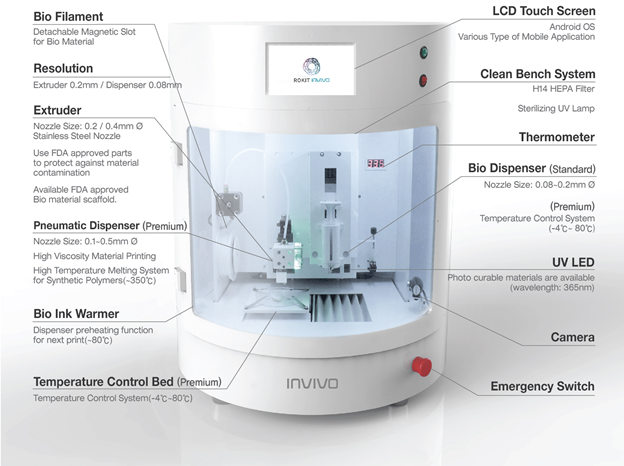 Dr. INVIVO 4D: The world's first sterile, all-in-one organ regenerator, Dr. INVIVO 4D
was developed for biomedical researchers and material engineers to pattern cells, biomolecules, and polymers to explore multi-material 3D composite structures, from tissues to novel biocompatible materials. 4D biofabricating technology is the best way to recapitulate the complex and functional human body.
Bioinks: Rokit Healthcare bioinks are optimized for human tissue printing through innovation by the finest biomedical researchers and material engineers. Their ideal bioink formulations satisfy material and biological requirements that mimic cellular components found in tissue-specific microenvironments.
EpiTem: EpiTem is a human reconstructed skin model that has disruptive applications in the 4D bioprinting industry.
Request a quote
Click here to request a quote on any Rokit Healthcare products.