Description
Our standard lithography systems can accommodate substrates of arbitrary shapes with lateral dimensions of up to 1400 x 1400 mm2. Larger substrates require specially designed systems, in which the substrate is stationary and the exposure unit is moved during the writing process. We have designed and installed these types of systems for fabrication of linear encoders with dimensions of 3100 x 50 mm2 and for large area photomask production with an area up to 2400 x 1900 mm2 – the latter system is also equipped with a fully automatic handling system.

Besides lateral dimensions, substrates also differ in thickness and material properties. Our standard systems can handle all common semiconductor materials. We have developed special chuck and loader designs for very thin flexible substrates for sizes up to 1400 x 1400 mm2.

Some applications require exposures on existing structures with varying height, e.g. in deep etched groves. Heidelberg Instruments offers a special writing strategy for such applications.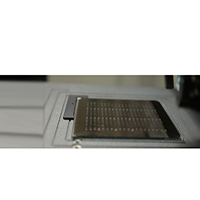 Applications for implementation of electronic systems
Non-planar surfaces
Imaging sensors
Artificial vision
Integrated micro-optics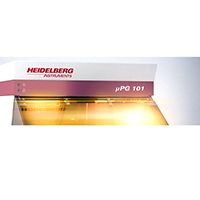 Key Features and Options
Substrates up to 6" x 6"
Structures down to 0.6 μm
Address grid down to 20 nm
Basic gray scale exposure mode
Real time auto focus system
Standard or UV diode laser source
Vector and raster exposure mode
Exchangeable write modes
Camera system for alignment
Multiple data input formats
The laser sources in our standard systems range from 355 nm to 532 nm, making it possible to expose all the standard UV photo resists. However, for special applications resists sensitive at even shorter wavelengths are required. At the same time it is possible to create even smaller features because of the smaller wavelength. That […]