Description
The ANALYSETTE 28 ImageSizer is the ideal Particle Sizer for all applications that require accurate and reproducible measuring results for both particle shape and size of powders and bulk solids as well as of suspensions and emulsions.
The optical process of dynamic image analysis provides results for a wide measuring range, delivers multiple shape parameters and evaluation possibilities for particle size. Measuring time is under 5 minutes, depending on the sample quantity, and the results are available immediately.
Features and Benefits of ANALYSETTE 28 ImageSizer – Dynamic Spahe & Size Image Analysis:
Dry measurement of powders and bulk solids – measuring range 20 μm – 20 mm
Ideal for fast analysis of particle shape and size of dry, free flowing materials. With optical analysis of the particle shape and size, accurately identify damaged particles, contaminates, agglomerates or oversized and undersized particles. View the particles in completely uncomplicated single images.
The sample material is filled into the funnel and conveyed to the falling chute via the automatically controlled feeder. There, the sample falls through the measuring chamber between the camera and LED strobe light into an easy to clean sample collecting vessel. The images recorded continuously during this process offer a variety of evaluation possibilities. And the sample remains undamaged and completely intact throughout the entire analysis process.
Wet measurement of suspensions and emulsions – measuring range 5 µm – 3 mm
The ANALYSETTE 28 ImageSizer, in combination with the wet dispersion unit, allows the sample material to be fed into a closed liquid circulation system and is pumped with high power through the measuring cell between camera and LED strobe light. The continuously obtained images are the basis for the analysis with a variety of evaluation possibilities.
Wet dispersion is particularly suitable for fine particles, poorly flowing, fine-agglomerating or sticky materials, which do not react in water or other liquids. A powerful centrifugal pump with individually adjustable speed ensures optimal transport of even heavy, high density particles in the wet dispersion unit – enabling fast, uniform distribution of the sample material in the entire circuit.
High-performance camera with telecentric lenses
The bi-telecentric lenses of the integrated camera guarantee the highest precision of the image of each individual particle always at the same reproduction scale and thus the highest shape accuracy with the greatest possible depth of field. Compared to conventional lenses, there is also a greater depth of field and less image field distortion to create a more accurate measurement through a higher magnification consistency.
State-of-the-art evaluation with the ImageSizing-Software ISS
The ImageSizing-Software ISS displays each recorded particle clearly as a data point in the immediately available FRITSCH Cloud as well as in the FRITSCH Gallery. Choose which statement is of interest: for example the Sphericity in regards to the Minimum Feret Diameter, the aspect ratio, applied on the porosity, or the convexity as a function of the particle Cross Section.
Specifications: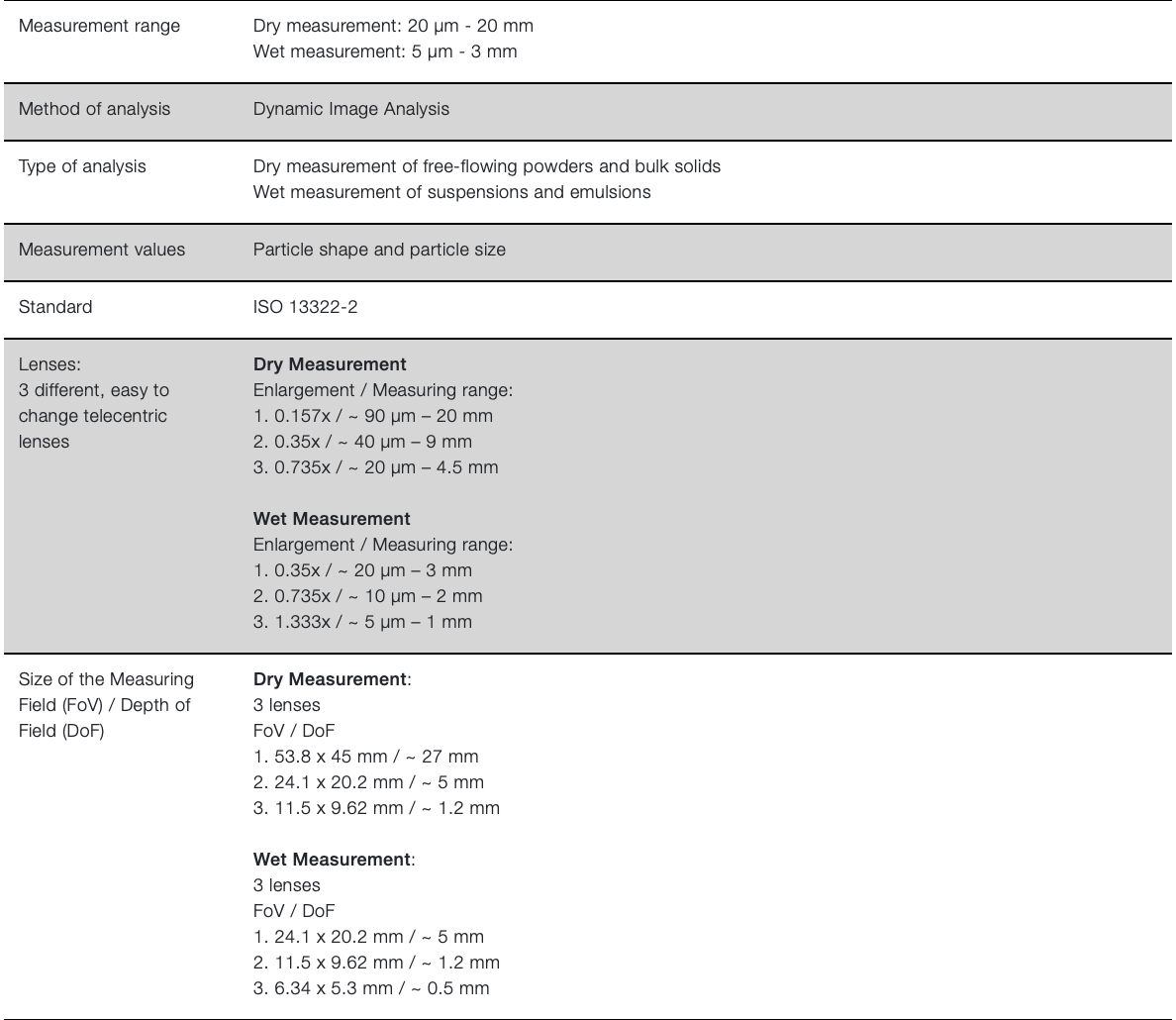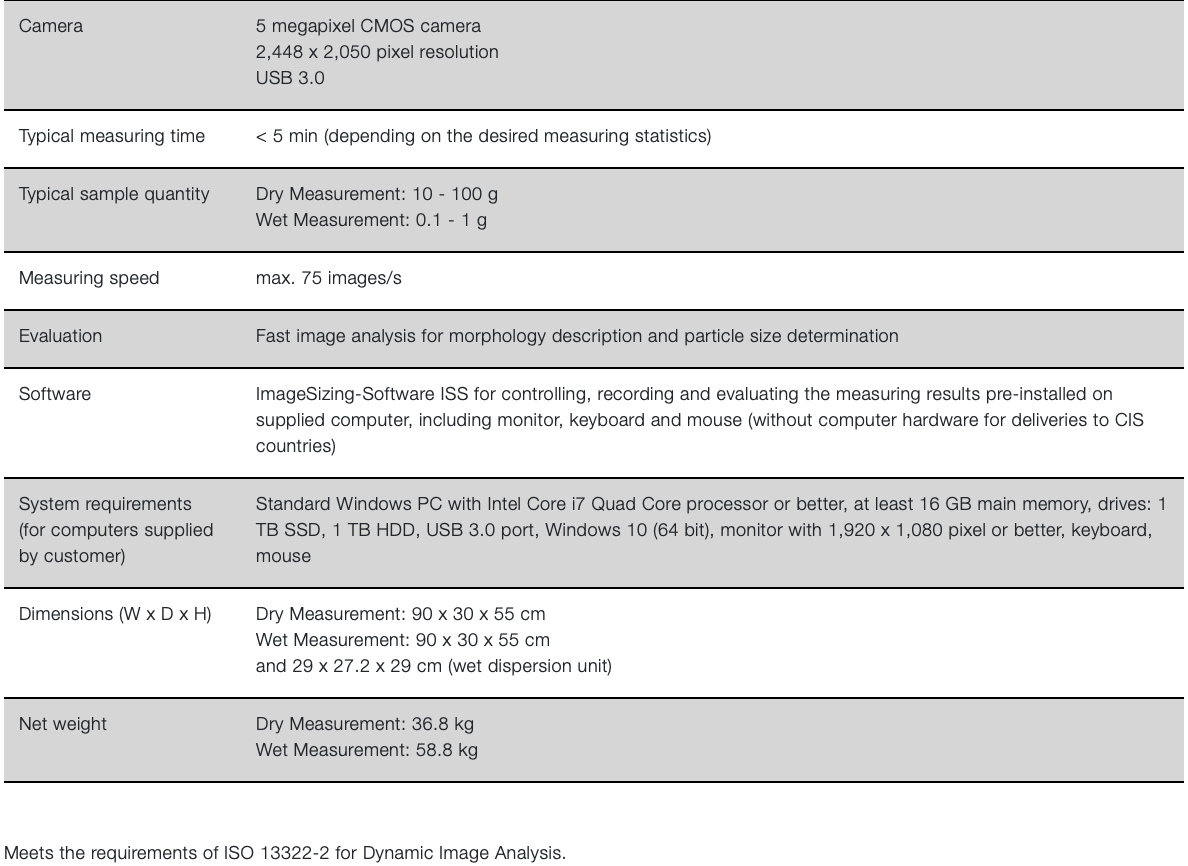 View similar products from Horiba Scientific.