Optical tensiometer; Smart interfacial measurement solutions for wettability and adhesion
The new generation Theta Optical Tensiometer (Attension® Theta Flex) from Biolin Scientific  is a contact angle meter that enables all measurements in one instrument for both research and quality control. It measures static and dynamic contact angle, 3D surface roughness, surface free energy, surface and interfacial tension, and interfacial rheology.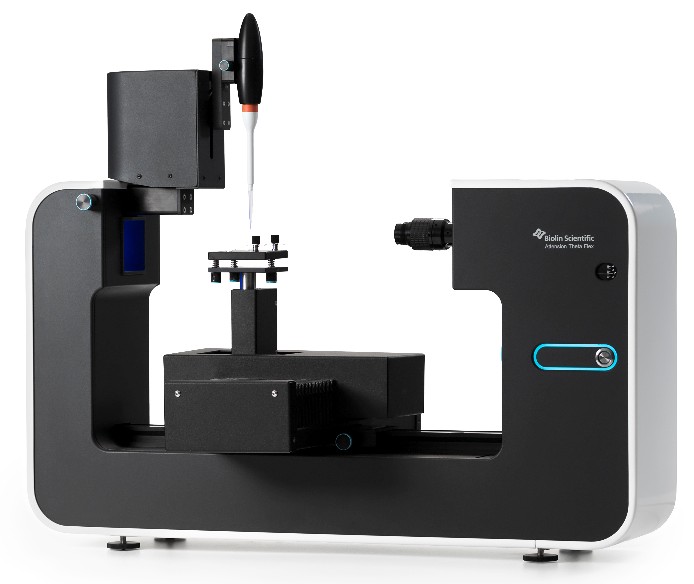 One instrument for all your measurement needs
All the measurements are readily included in the software. Thanks to the modular design, all applications can be fulfilled with one instrument and the instrument can be tailored for your needs.
Results you can rely on
High-end imaging together with sophisticated analysis algorithms detect and analyze the contact angle and surface free energy precisely. The effect of roughness to wettability can be measured with the unique 3D Topography module.
Speed and repeatability
All steps from loading the measurement to performing it and analyzing the data can be automated. The need for time consuming preparations and cleaning are removed with the disposable liquid tips.
Applications
Optical tensiometers are used in a great variety of industries and research areas, such as chemicals, pharmaceuticals, electronics, foods, energy, paper and packaging. Attension Theta Flex can be used for convenient and precise studies of:
Wettability
Adhesion
Homogeneity
Surface roughness
Spreading
Cleanliness
Printability
Adsorption
Emulsion and foam stability
Measurements
Attension Theta Flex can perform a complete range of measurements including:
Static contact angle with the sessile drop, captive bubble and meniscus methods
Dynamic contact angle with the tilted drop and sessile drop methods
Surface free energy with the sessile drop, captive bubble and meniscus methods
Surface- and interfacial tension with the pendant drop and reverse pendant drop methods
Roughness-corrected contact angle and 3D surface roughness with the Fringe projection phase shifting method
Interfacial dilatational rheology with the pulsating drop method
OneAttension software
OneAttension features an intuitive user interface, live analysis and configurable user groups and accounts. In-depth analysis of your results takes a few seconds and data can easily be exported.
Modules and accessories
Attension Theta Flex enables you to choose the level of automation and the advanced functionalities that you need for your applications. With the modular design and an extensive range of modules and accessories you have room to upgrade or change the instrument as your needs evolve.
Attension Theta Flex: one instrument for all your measurement needs.
For more information or to request a quote, please contact us.