Description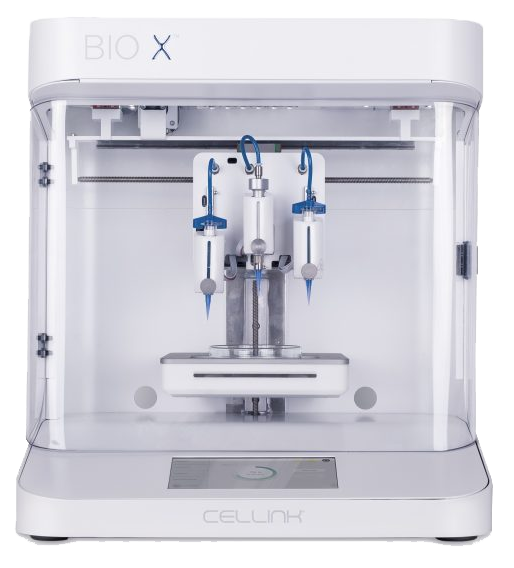 BIO X is the most user friendly yet flexible bioprinter in the world, providing the user with an unparalleled bioprinting experience. The builtin features along with the new BIO X software managed through the large touch screen display minimizes the learning curve, increases effectively, and ensure you will receive the results you want. BIO X is the new go-to bioprinter for life science companies, researchers and innovators around the world. BIO X is the mosuser friendly bioprinter on the market and a comlete standalone product.
Bioprinted tissue can be used in drug discovery where researchers can test new potential treatments and evaluate efficacy in very early stages. New drugs and treatments will potentially reach clinical trials faster with a decreased number of failures and reduce need of animal testing.
BIO X is the next generation bioprinter, bringing scientists yet closer and faster to a desired future of medicine.
CELLINK BIO X 3D Bioprinter offers a revolutionary bioprinting experience. The complete stand alone system offers the user unrivaled flexibility with exchangeable print heads and additional features such as:
Heated print heads
Cooled print heads
Heated print bed
Cooled print bed
Clean Chamber Technology
Piston driven syringe head
Pneumatic print heads
Multi well plate printing
Touch screen control
CLEAN. REINVENTED.

A complete system of uncompromised cleanliness

With dual, high-power fans producing a powerful airflow through its dual filtration top, the BIO X 3d bioprinter creates a positive pressure inside the chamber. The HEPA H14 dual filter top makes sure that more than 99.995% of unwanted particles and microorganisms are retained. BIO X is equipped with UV-C germicidal lamps that allow you to run sterilization cycles to sterilize the printing environment.

USER-CENTERED INTERFACE

Ergonomically designed for your convenience

Your convenience is our priority. The BIO X touch display is fully usable even while you're wearing gloves, facilitating the keeping of a clean environment. BIO X and its screen are durable like any lab equipment and can thus be cleaned as such.

PRINT HEADS

Intelligent and exchangeable

BIO X is the first 3d bioprinter in the world with Intelligent Print Heads (iPH), ensuring your research is always on the cutting edge. The BIO X print heads are specifically designed with flexibility, beauty, and simplicity in mind. The best part is that you can design your own dispensing technologies or methods and utilize them with the BIO X system. The possbilities are endless, giving you full freedom in your lab work.

 

 

FOR ANY APPLICATION

CELLINK offer a range of print heads and tool heads

Utilize the triple print head technology provided by BIO X to combine different materials and printing techniques to fit your application.

Add up to 7, and counting, different ones:

– Extra Heated Pneumatic Head (130°C)

– Cooled Pneumatic Head (4°C)

– Ink-Jet Print Head (85°C)

– Syringe Pump Print Head

– Photo Curing Tool Head, for UV light in any wavelength.

– HD Camera Tool Head

Collaboration is the key to success. If you don't find the tool head you need, just let us know!
Contact us at info@cellink.com and we will be more than happy to assist you with all of your needs, right here at the world of bioprinting.

WIDE MATERIAL RANGE

Non-suitable materials? Not with a heat controlled print bed

BIO X allows you to delicately control the temperature of its printbed, which enables a new level of printing quality. Being able to control the printbed temperature paves the way for the use of any bioink, no matter its viscosity.

 
STAND ALONE UNIT
A Complete System moveable in one piece
SPECIFICATION OF 3D BIOPRINTERS

The future of 3D bioprinting

The INKREDIBLE 3D Bioprinter allows you to print human tissue right in front of your eyes. The INKREDIBLE bioprinter offers excellent accuracy, high reproducibility, and ease of use. The INKREDIBLE Bioprinter has been optimized to print Skin and Cartilage tissue, however, the sky is the limit on what tissues you can print. The world is waiting to see what you will print next.
FEATURE
Printer technology
Pneumatic-drivenPiston-driven
Pneumatic-driven
 Pneumatic-driven
Multi-printheads
  (3)
 (2)
 (2)
Automatic calibration
 
  
Exchangeable printheads
Pneumatic extrusionSyringe pump

Inkjet

High temperature extrusion

Exchangeable toolheads
UV curingHD camera
Heated printheads
Cooled printheads
Clean Chamber Technology
HEPA H14 filterPrefilter

Dual power fans

HEPA H13 filter
Printbed temperature control
4-60 °C
Interface
Graphical touch display
Numerical display, physical actuators
Numerical display, physical actuators
Air supply
Integrated
External
External
Build Volume, mm
 130 x 90 x 70
 130 x 80 x 100
130 x 80 x 50
Outer dimensions (W/D/H), mm
 441 x 354 x 483
300 x 320 x 430
300 x 320 x 380
Connectivity
 Ethernet, WiFi, USB
SD-card, USB
SD-card, USB
UV crosslinking system
 365 nm, 405 nm
365 nm, 405 nm option
365 nm
XYZ resolution
 1 micron
10 microns
10 microns
Printhead actuation
Mechanical high precision
Pneumatic high precision
Mechanical